January 15., 2015.
Newsletter No. 4.
We wish you a happy and productive year for 2015, with a lot of new experiences and encounters in performing arts, also within artistic and professional programme of dunaPart3 Showcase in Budapest exciting. As we have already published, the extensive programme will run from 2nd to 8th March and the intensive programme will take place between 5th and 8th March.
We are happy to announce that the daily schedule of the performances for dunaPart3 is finally ready. To check it out, please visit our webpage and reserve your seats to the shows you'd like to attend. Please note that in the intensive programme we offer dance and theatre shows running parallel, so there you will have to make your choice. We are also thrilled to inform you that dunaPart3 will be able to provide tickets free of charge with all registered guests.
When putting together your own schedule for the platform please refer to the detailed description of each show and artist. If you need help or advice do not hesitate to contact us at info@dunapart.net.
As there are a number of performances with limited seating we advise you booking your tickets as soon as you can to make sure that you have a reservation to all performances that you would like to see.
In the very near future we will publish the professional programmes for the mornings, which will need no special registration. These programmes will include activities such as: meet the artists, fair, pitching, talks and debates and concerts. We aim to create a diverse professional programme, which does not only give an insight to the performing arts field with a special focus of the independent sector, but offers a wider perspective of the cultural and civil processes taking place in Hungary. We hope that the programme will informative and also flexible enough for informal meetings and networking.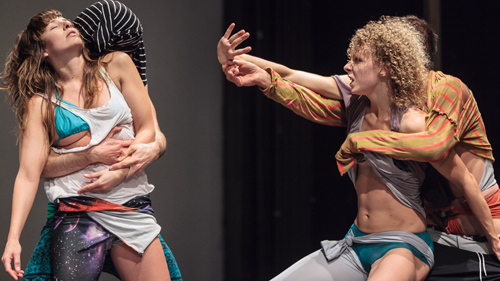 HODWORKS: Conditions of Being Mortal
Please check out the list of hotels offering a special rate for the guests of dunaPart3. For booking please follow the instructions described on the website. Other sights of interest with special rates will also be made available on the website shortly.
If you haven't registered yet to the event, please register now! We'd also like to kindly ask you to spread the news to those who might be interested but don't yet know about the showcase.
Make sure to follow our page on Facebook where you can get all the fresh information about the programme and preparations.
Hope to see you in Budapest in March 2015!
Anikó RÁCZ
head of coordination
György SZABÓ


Trafó House of Contemp

orary Arts

Andrea TOMPA


Hungarian Theatre Critics' Association
Adrienn ZUBEK


Independent Performing Arts Association